Vintage Skirts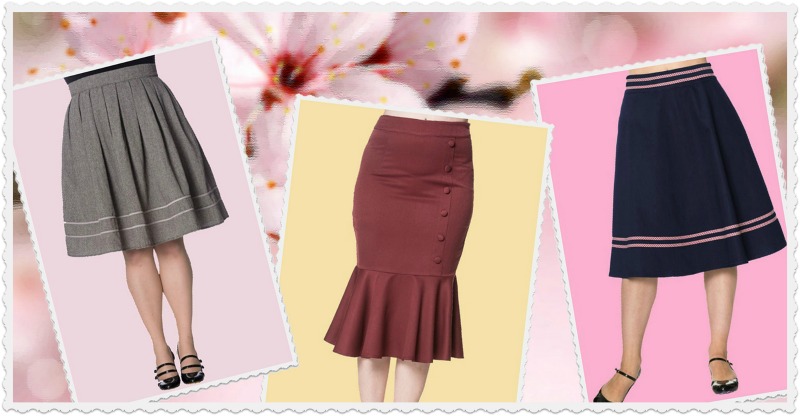 Vintage Skirts
Retro skirts can really make statement pieces all year round and with our latest retro pieces, our latest stock edit is where you'll find the loveliest collection of retro skirts online. So if you dolls are looking for fabulous 50s skirts, poodle skirts or swing skirts then VintageDolls has it all, and so much more! 

View our unique collection and in the unlikely event that you can't find what you're looking for, then email us and we'll do our best to get it for you as quickly as possible. 
Thanks for stopping by at VintageDolls and view our beautiful range below...
---
---
Vintage Skirts Online
Chic, retro and timeless fashion is what we're all about.
If you're looking for vintage inspired fashion with a pinch of pin-up, rockabilly and glam, then you've hit the right place and our passion for vintage fashion is for vintagedolls like you.
We'll bring the best of vintage to your screens on our online shop everyday and we offer a big range of vintage inspired skirts such as, 50s skirts, 50s poodle skirts, 60s skirts and the list goes on.
Our vintage collection is made up of a wide inspiring range of gorgeous items to discover at your own pleasure, and we love to offer you dolls the cream of the crop! 
The lines we provide at our online vintage shop are timeless which means that it's essential that it fits well, and the help of our individual item size chart will help you choose the right size first time! So whether you're a petite doll or a curvy doll, we have all sizes ranging from a Size XS to 4XL.
Don't forget, the best way to make your vintage skirt stand out with classic bold patterns, designs and colours. Why not team your new skirt up with some knitwear or pair up with a retro chic blouse or with a pencil skirt.
We also have brooches as an add on to your new skirt, which'll make it more of an evening staple.
Our designs are have been made to make you feel your most feminine and once you've nailed your perfect item, we'll ensure you'll get your new order as quickly as possible and if you have any queries you can contact us here.
We ship our items worldwide to the UK, Europe, the US amongst many more countires with secure and reputable couriers with track and trace facility.
Shopping for a vintage inspired skirt online has never been so easy and we look forward to serving you at VintageDolls.
Get to know us better by signing up to our weekly newsletter below or joining us on Facebook and Instagram.
---
           FOLLOW US AND GET TO KNOW US BETTER