Goblet Body Shape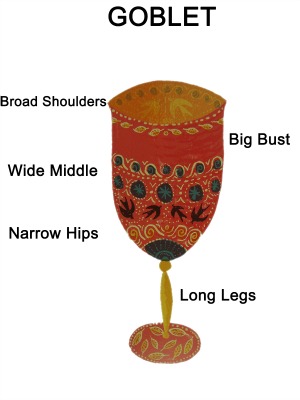 If you've got a goblet body shape then you are are blessed with an ample bust and broad shoulders which in effect gives you a square shape above however, your gorgeous long legs are slim and are so ready to be flaunted.
Discover the key shapes to fit and flatter your figure and the must-have key dresses you won't be able to live without.
This is the top place to read tips on how to dress for your shape and uncover fashion style secrets for your figure with our helpful advice, and shop the best dresses for a goblet shape.
Top Dress Tips For A Goblet Shape
Best dresses for a goblet body shape are strappy colour block dresses which are frocks with two different colours. Dark colours should dominate the top half which will shrink the upper of your body, complemented by a lighter colour to the lower half of the dress to showcase your sexy slim legs.
Halter Neck Prom Style Dresses

are also brilliant to wear as the straps will reduce the appearance of broad shoulders. A-Line Shapes and high-waist empire line dresses draw a horizontal line underneath the bust, which highlights the slimmest section of your torso. The flared skirt of the dress will help balance out your broad shoulders and don't hesitate to wear knee length hemlines.
Before you go looking for a dress, why not consider some body control underwear. A waist cincher is like a modern day corset - it cinches you in at the middle and will help define a waistline by trimming your tum and will work wonders for your self confidence.
If you want to know more about the goblet body type, then click here to read Body shape calculator's take on the goblet shape to give you a deeper understanding.
---
Dresses For A Goblet Body Shape
---
Please view our unique collection of Prom Dresses 2015 together with many other dress styles to suit any occasion whether it be a, cocktail dress, bridesmaids dress, mother of the bride dress, wedding dress and much more!
Celebrity Goblets To Inspire You...
Catherine Zeta Jones

The actress models a delightful colour block strap dress which effectively shrinks her top half thanks to the corset black bodice, which creates curves to her lack of waist that balances her ample bust and slender legs.

The contrasting white skirt section decreases her waist creating a sweeping silhouette figure.

Other celebrity Goblet's include Renee Zellweger and Jessica Lange.
---
                        FOLLOW US AND GET TO KNOW US BETTER



By Nicholas Ioannou,  Copyright 2011-2018 VintageDolls.co.uk

 All rights reserved